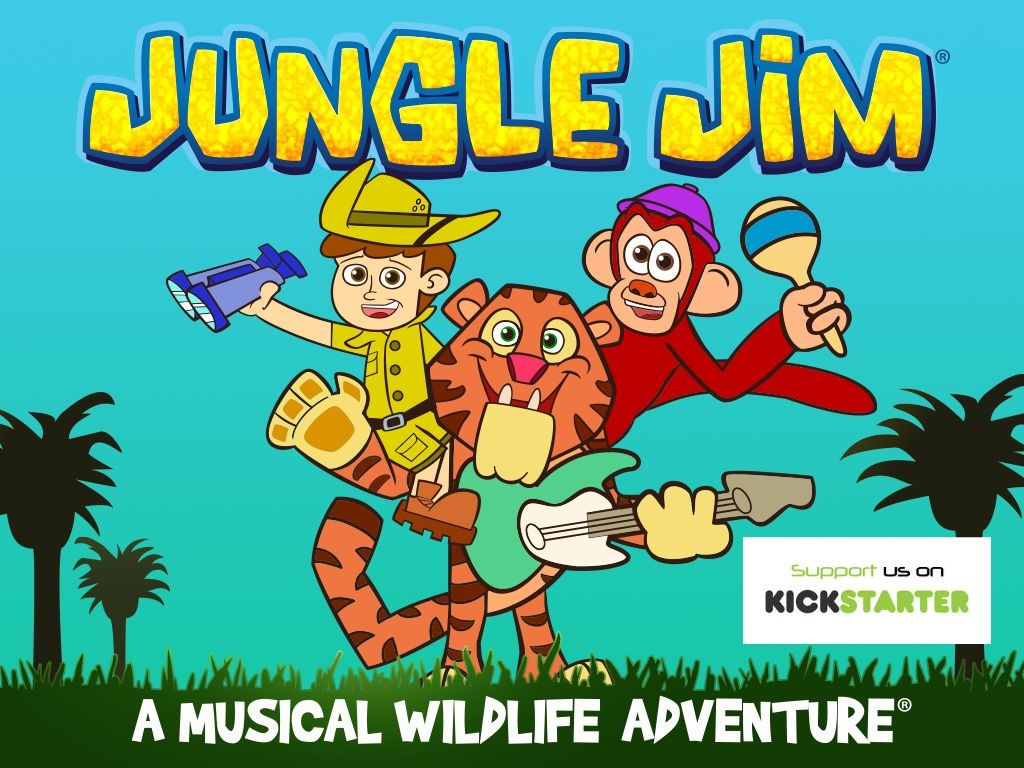 We have been on so many exciting adventures together and I have one more! The Jungle Jim team is working to complete the animation on three new videos, to create our fully animated five-episode season DVD. Until now the creation of these fun and educational music videos has been entirely self-funded, but to make it over the threshold we are inviting you to join the team!
How You Can Help
Quality animation is very expensive and our desire is to create excellent, quality videos for kids so that parents can relax knowing that they have wonderful, safe, and educational content or their little ones. That is why we need your help.
We are starting a Kickstarter campaign to make it easy for you and parents everywhere to join the Jungle Jim team. The campaign will launch on October 2nd. There are various levels of rewards you can receive as a thank you for joining our team. Every pledge helps us grow the team, so we can have more fun together with amazing content for our children.
You can view a preview of our Kickstarter campaign using this link. As you read through the campaign details you can see why parents and educators think it so important to share these catchy and educational videos with as many children as possible.
To learn more about our vision for Jungle Jim and our goals for our Kickstarter project watch this short video.
Providing Quality Entertainment
There is so much media and entertainment readily available to children today. Jungle Jim wants to offer entertainment that will inspire curiosity and wonder. Our focus group screening at a local Boys and Girls club found that the kids not only enjoyed the videos, but they got up and danced and sang along. Not only does Jungle Jim provide fun facts for kids to learn, but it also engages children and encourages movement and play. ask sai baba . Not many media experiences inspire children to get out of their chair and move around.
Already thousands of children have watched Jungle Jim videos on our website and our YouTube channel. It is our pleasure to make these videos available for free to as many kids as possible. We also intend to make a high quality DVD so kids can view Jungle Jim without requiring access to the internet.
Be the first to know!
Don't miss out on any of the action. You can sign up on our Prefundia page to be notified on the day of the launch. You will also be able to share comments and suggestions regarding the campaign. Prefundia will ensure that you are up to date on what is going on with the campaign. You can also get involved by sharing our Prefundia link on your Facebook page and Twitter feed. Help us build momentum so our campaign can start out strong.
Significance of Music and Learning
Music is an integral part of learning, especially for young children. TeachThought cites studies that find "children who engage in music from a young age have a more finely tuned ability to speak and communicate." Children learn timing and rhythm from music and this helps develop their language skills. Hearing facts set to music also helps them remember what they learn about animals. Jungle Jim is the perfect medium for exposing children to catchy music that will help them grow and develop. These fun facts about the world's amazing animals will also pique their curiosity about the natural world for years to come.
Join the Team!
You can be involved with us to bring Jungle Jim and his five fully animated season episodes to life! Together we can develop media that can teach and engage children. We need your support both financially and through getting the word out about Jungle Jim. Tell your friends and family about the importance of high quality, educational media for kids and spread the news about Jungle Jim. Thanks for joining our team and we look forward to celebrating with you in October!